August 7 – Texas Meets KC
August 7 @ 3:00 pm

-

6:00 pm

$149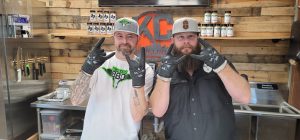 In the Texas Meets KC BBQ Collaboration class, you'll get a chance to learn with the legendary pitmasters Richard Fergola of Fergolicious BBQ and John Reeves of Smokin X.
Signature Cocktail on GMG
Prime Rib
Pork Steaks
TX Smoked Cobbler
KC Peach Pie Beans
Bacon Chocolate Chip Cookies
Collab with a local brewery
You'll hear stories of BBQ from the Lone Star State (Texas) as well as Kansas City anecdotes on why it could be the better BBQ.  You'll get to compare flavors and sample a wide range of recipes that have made these pitmasters famous in their necks of the woods as well as across the country.
There are many choices of barbecue classes in America and many good instructors. So how do you choose? Well, Richard used to be a teacher, so if you're looking for instructors who love to teach and have a well-documented track record for sharing the art & science of barbecue that's backed by award- winning BBQ on the KCBS competition circuit as well as viewed by the nation on Destination America's hit TV show BBQ Pitmasters & Food Network's Chopped Grillmasters, you don't need to look any further.  In addition to cooking award winning Q, Richard is also a KCBS Certified Master BBQ Judge.  

Since 2012, Fergolicious BBQ has proven that if you work hard enough and learn certain methods, your BBQ can go from zero to hero.  In one day, Fergolicious BBQ will provide you with an entertaining, action-packed barbecue class that will shorten the learning curve so that you can produce award-winning Q in your own backyard.  All classes will cover topics including…
How to light a fire
How to prepare injections, brines, rubs & sauces
Detailed instructions on cooking methods
Equipment and Accessories
Timelines, temps
Hot-holding
Different woods, charcoal and fuel
Answering all your BBQ problems and questions